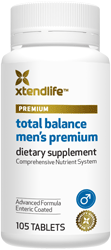 Xtend Life Total Balance Premium range of vitamin supplements from Xtendlife provides a complete set of products specifically designed to meet the demands of aging.
There are three basic types of adult supplements in this range and they are grouped under men's, women's and unisex categories. These supplements are the seventh generation line of products.
Xtend Life Total Balance Premium offers a perfect blend of vital nutrients, enzymes, amino acids, vitamins, trace elements, flavonoids, minerals, carotenoids and natural extracts, Total Balance Premium aims to help you age gracefully.
Key Features :
Total Balance Men's Premium aims to slow down the ageing process by dealing efficiently and rapidly with problems caused by glycation, free radicals, methylation, DNA disintegration and inflammation.
Total Balance Women's Premium understands the specific body demands of women.  Unlike the standardized version, this range contains a surplus 3071mgs of bio-actives per day that help in overall development of a woman's health. It has a collection of 99 essential elements, some of the major ones being SAMe, Policosanol, L-Glutathione, Phosphatidyl L-Serine and L-Carnosine.
Total Balance Unisex Premium is not gender specific and is created to meet the requirements of both men and women. This supplement is far superior to the standardized version as it gives 1478 mgs of bio-active elements in a day's dosage. A combination of 94 vital elements helps in quickening the healing process.
The unique enteric-coating technology is common to all the variants and helps in placing the tablet safely into the desired location in the intestine.
Usage
The daily dosage for Total Balance Men's Premium and the Total Balance Women's Premium is seven tablets per day whereas the Total Balance Unisex Premium comes with a recommended dosage of six tablets a day. It is advisable to maintain regular time gaps between tablet intakes.
Since the tablets are designed with enteric-coated technology, you can safely consume the tablets on an empty stomach. It is suggested that adults take a short gap of 2 weeks each year to prevent the body from becoming dependent on the tablets.
Benefits
Xtend Life Total Balance Premium is designed to retard the aging process and make the journey smooth. It keeps a check on the overall health by providing strength to the immune system and aiding effective cardiovascular system, better eyesight, high energy levels, minimal cell degeneration, proper brain functioning  and increased mental strength that helps deal with stress.
Total Balance Men's Premium is beneficial for men as it helps increase the testosterone level and maintains good prostate health.
Apart from all the general functions mentioned above, Total Balance Women's Premium caters to the special needs of women.
It helps deal with hormone related irregularities like hot flushes, mood swings and emotional anguish. It also provides relief from undesired symptoms associated with PMS and menopause.
Precautions
This natural supplement should not produce any side effects. However, if you are suffering from some ailment or have high toxin levels, you may experience reactions like nausea and vomiting. The complete range of this supplement contains a nutrient made of crab shell. Although a very small amount of this nutrient is used in a refined state, it is still advisable to increase the dose gradually for adults who are allergic to the substance.
Consultation with a doctor is important for adults who are already on blood thinning medicines. The Total Balance Women's Premium can be consumed safely till the preconception stage but should not be taken during pregnancy.