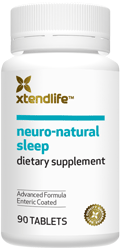 Xtend Life Neuro Natural Sleep is a product which caters to sleep disorders. Let us see what the product has to offer its consumers.
About the product :
This product caters to one of the major problems that most of the people today are facing – Insomnia or sleep disorders.
As per statistics 60 million people in the U.S face some form of sleep disorder, which is not only taxing on the individual but also businesses at large. Approximately businesses lose $18 billion every year due to loss of productivity of its employees because of sleep loss issues.
The product is a natural supplement for those suffering from insomnia or other forms of sleep disorders. The product boasts about not only being capable of controlling sleep disorder but also promoting deep sleep.
Unique feature :
Addiction to supplements or pharmaceutical drugs which cater to problems related to sleep disorders has always been quite a looming concern. This product, unlike most other supplements in the market, is not addictive. It is a pharmaceutical grade high quality health supplement and has absolutely no side effects (should be used as per dose advised).
Composition :
Another major advantage of this product is that it is made from natural compounds and not chemical compounds. If you take notice of the composition, you will see that the product contains a fair blend of vitamins and minerals and a lot of herbal or alternate medicines. Vitamin B6, which constitutes a major share in the health supplement, helps to maintain healthy brain and normal nerve functioning.
The herbal composition is also quite impressive. The product contains 39 ingredients of which 14 are herb extracts. The natural ingredients present in this product are extracts of passion flower, valerian and hops. The product also contains amino acids such as L-Threonine and D-Phenylalanine. The specialized nutrients present in the supplement are Resveratrol, Huperzine A, Vinpocetine and SAMe. In addition to these ingredients, it has thirty two other active ingredients.
Benefits of Xtend Life Neuro Natural Sleep :
It is common knowledge that the amount of work your body does throughout the day wears it out. Sleep is a way of relaxing the body and reenergizing it in order to be able to perform all functions energetically the next day. When you sleep, your body repairs itself and prepares you to face routine activities. So, the consequences of loss of sleep can be disastrous and can lead to serious psychological problems.
Neuro Natural Sleep is by far one of the most effective supplements for catering to such issues.  In addition to aiding sleep, the supplement keeps your nervous system healthy and supports your brain activities.
Healthy and energized body :
A good night's sleep helps to refresh your body totally. It also helps to regenerate natural fluids and antibodies that help keep your body healthy and energized.
Promotes brain functioning and calms your mind :
The product helps to promote brain functioning as well as supports normal functioning of your nervous system. Deep sleep also calms your mind and enables you to utilize it to its full potential once you are up and awake.
Strengthens your immune system :

Deep sleep plays a very important role in strengthening your immune system. As a result, you can fight common viruses and bacteria and keep yourself healthy and happy.
Dose :
For adults: 6 tablets a day.
12-18 years of age: 3 tablets a day
Doses should be preferably split into two equal parts. First dose should be taken prior to your evening meal and second two hours before your bedtime.
Price :
A bottle of Xtend Life Neuro Natural Sleep contains 90 tablets and is priced at $37.95. Shipping charges are extra at $6.50. So, to enjoy invaluable benefits of deep sleep, you pay just to $45.85
Customer feedbacks on this product are very encouraging since they are so positive. Customers are very satisfied with the company as well. The service provided is noteworthy in terms of flexibility of ordering or returning products, assiduousness in addressing issues and concern towards customers. Looking at the benefits of the product and excellent customer assistance, you should not hesitate before trying this Xtendlife product as a permanent resolution to insomnia.
A bit about the company :
Xtend-Life Holdings Ltd is the parent company under which there are three subsidiaries. Xtendlife Natural Products (Intl) Ltd takes care of the research and development and customer relationships. Xtendlife Natural Products (NZ) Ltd handles manufacturing of all Xtendlife products. Xtendlife Natural Products (Thailand) Ltd, which looks after imports and marketing of Xtendlife products in Thailand.