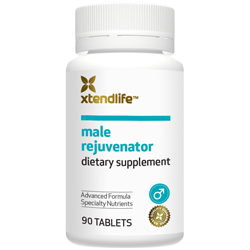 Men are vulnerable to prostate related diseases once they hit their mid-life. Common concerns include enlargement of the prostate gland.
According to studies, there is a 50 percent chance of men falling prey to this condition by the time they reach 59 years of age.
Another common symptom of prostate related problems is a loss of sexual desire. Such symptoms begin to appear from the age of 40. Although this does not pose a potential health risk, it can have long lasting negative effects on one's personal life.
So, it is important to try your hardest to keep your prostate healthy. One product that will be of great assistance to you is the Male Rejuvenator developed by the reputed brand Xtendlife.
How male rejuvenator works
As men age, the level of testosterone in their body reduces considerably. This leads to a condition that is termed as Benign Prostatic Hyperplasia or is commonly called enlarged prostate. The condition causes a lot of discomfort and also affects your libido massively. Xtend Life Male Rejuvenator, with its active combination of effective ingredients such as Grape Seed Extract, Green Tea Extract, Quercetin and Phytosterols, ensures that such problems can be kept at bay.
These ingredients replenish all the nutrients that are essential to maintain your prostate health. Additionally, it also contains components like pimedium Brevicornum, Damiana and Tribulus Terrestris that help in boosting the production of testosterone in the body
How should you use Male rejuvenator?
There are a few protocol suggestions that are available with Male rejuvenator. You can follow these instructions to get maximum benefits. The usage of Male Rejuvenator depends entirely on the results you are looking for. For those who are only looking at an improved sex life and maintenance of prostate health, the recommended dosage is 6 tablets each day.
If you are looking for a more intense treatment program, you can combine Male Rejuvenator with other available men's health supplement products from Xtendlife. The right combination of supplements helps reduce the risk of prostate issues and maintains a good balance of the required nutrients.
You can consume 6 tablets of Male Rejuvenator along with 6 tablets of Total Balance Men's Premium and two tablets of Omega 3/DHAs per day. After the first month of usage, you can reduce the dosage of Male Rejuvenator to 3 tablets a day.
Benefits of Male Rejuvenator
The benefits of Male Rejuvenator go beyond just prostate health.  The supplement helps in increasing libido and sexual satisfaction. Given the affordability of the product, it is a great hit amongst men. Thousands of men who have used the supplement have experienced a marked improvement in their prostate health along with a much healthier sex life.
According to statistics, 20 to 25 percent men in America suffer from decreased libido. Almost 40 percent of the male population seeks help for sexual problems that make their sex lives unsatisfactory. Male rejuvenator from Xtendlife is one product that provides a solution to all these issues at an affordable price.
Precautions
It is advised that you take a break from these supplements for a maximum period of two weeks every year in order to make sure that you do not become too dependent on them. Although taking this supplement will be of great benefit it is still advisable to have regular prostate check by your doctor.