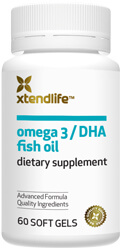 CoQ10 – Ubiquinol is an element that provides multiple benefits to users. This nutrient is naturally available. However, after rigorous research and careful investigation into the data available about this ingredient, Xtendlife has come up with a formula which uses this ingredient in the most optimum manner.
The product is called Omega 3 / QH Ultra and it has the ability to energize your cells naturally. Additionally, Omega 3 / QH Ultra offers other benefits including the ability to improve your heart health, muscle strength and concentration levels.
What makes Omega 3 / QH Ultra so effective?
Omega 3/QH Ultra uses a specialized type of CoQ10, which is different from the CoQ10 commonly found in most fish oil supplements. The special ingredient present in Omega 3/QH Ultra is known as Ubiquinol and was developed in Kaneka in Japan. Unlike the regular CoQ10, Ubiquinol is easily utilized by the body to create positive results.
When a person consumes the regular CoQ10, the body needs to convert the ubiquinone present in it to ubiquinol in order to get full benefits. This conversion is not so easy after 40 years of age. But the specialized variety of this nutrient present in this product allows easy absorption and allows the content of CoQ10 in the body to always remain higher.
It is proven that the use of Ubiquinol is upto 8 times more beneficial than regular CoQ10. The ubiquinol used in Omega 3 / QH Ultra comes with two extra electrons that are automatically streamlined into the body's electron transport chain, thereby creating the 'boost of energy' that you experience.
Using Omega 3 / QH Ultra :
One bottle of Omega 3 / QH Ultra comes with 60 soft gel capsules that can be used as a daily supplement. These tablets are very beneficial for those who are in their 40s. However, there is no age limit to its consumption. If you are not fond of swallowing capsules, you can also squeeze out the oil in the capsule and mix it with your food. Make sure that it is consumed immediately because Ubiquinol oxidizes into Ubiquinone when left in the open.
Health Benefits :
Omega 3 / QH Ultra provides multiple benefits to its user. Firstly, the presence of the magic ingredient Ubiquinol puts it way ahead of the other fish oil supplements available in the market. The most important benefit of these capsules is increased cardiovascular health.
Boosting the energy in the cardio muscles allows the heart to pump with more intensity and increases your body function. Ubiquinol also has the ability to maintain the health of muscles and nerves as you age. It helps prevent Neurodegenerative diseases like Parkinson's disease. It also helps you control migraines and boost your body's immune system.
Precautionary measures :
There are a few simple precautions that you must take before you consume Omega 3 / QH Ultra. If you are planning to use these tablets during pregnancy, it is important that you consult your doctor first. Even though our body has the ability to produce Ubiquinol naturally, once you hit the age of 40, the process lowers and you may be of benefit to take supplements. Before you do take any supplement, regardless of age, it is important that you consult your doctor first.