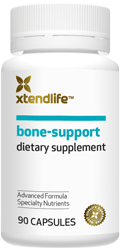 The skeletal system of the human body, which comprises of different kinds of bones, needs extra attention and care since it provides strength and support to the vital organs as well as to the complete body.
Every single posture and movement of the body is monitored by these bones.
Lack of adequate nutrients and calcium hampers the bone density, thereby causing diseases such as osteoporosis wherein bones become prone to fractures and breakage. Bone-Support, from Xtendlife, aims to provide wholesome nourishment that is needed to ensure your bones stay healthy and strong.
Key Features :
Xtend Life Bone Support comes in the form of capsules. With a combination of 11 vital bio-active ingredients, this capsule ensures maximum and effective absorption of calcium and other important nutrients. It is a balanced formulation of essential nutrients that aim to provide adequate bone strength.
The two key ingredients used in this capsule are natural calcium cultured from dead coral-reefs and vitamin K2 which is the most prominent form of vitamin K. This natural calcium, called the Okinawan coral calcium, is further combined with a non acidic magnesium compound. This increases the efficiency of the absorption process. The strontium and boron present in the compound ensure that the calcium reaches the target areas.
Another important element of this product is mangosteen extract. Being a xanthone, mangosteen is known for its anti-inflammatory properties and works effectively in reducing pain. This antioxidant helps fight against age related skin and bone problems.
Usage :
Xtend Life Bone-Support fulfills the wholesome nutrient requirement needed to maintain optimum bone density. This way, it negates the chances of bone related diseases and ensures a healthy skeletal system.
It can be used by adult men and women, and can be consumed three times a day. However, a dosage of one or two capsules twice daily is recommended. This capsule should be consumed after a meal or along with a meal.
For best results, intake of this nutritional supplement should be combined with an appropriate diet and physical exercise. There is no point in increasing the dose irrationally as the body absorbs only the required amount and discards the rest.
Benefits :
Apart from providing a substantial amount of calcium, vitamin K2 and mangosteen, this capsule comprises a host of other beneficial nutrients like lycopene, silicon, boron, piperine, vitamin C and D3, magnesium and strontium. These elements work in coherence with each other and provide the best possible result by enabling maximum absorption of nutrients.
It facilitates in maintaining the desired calcium level in an adult. It also greatly minimizes the chances of osteoporosis and frequent fractures. The nutrients help in maintaining optimum bone density mass, which in turn keeps a check on the health of the bones. It not only aims to provide strength to bones, but also provides sufficient support to the cartilages, in addition to reducing oxidative pressure.
Precautions :
This product is made from natural elements. So, it is highly safe. It comes with a certification for best purity. Although this capsule can safely be consumed at the preconception stage, it is advisable to seek your doctor's consent before consuming it during pregnancy. As this product contains vitamin K, adults undergoing medications for blood thinning must consult their doctors also before taking this supplement.